"I want to return to my old life": Yaseen, Syria
Emergency
Explosive weapons
Rehabilitation
Yaseen, 61, lives with his family in south Syria. In 2013, he was hit by shrapnel when his home was bombed. One of his legs had to be amputated, and he had to flee to another village in Syria. Handicap International's local partner provides him with physiotherapy sessions. Handicap International's actions in Syria are implemented with the support of the EU's humanitarian aid and civil protection service (ECHO).
Yaseen and his physiotherapist Mohammad. | © Handicap International
Three years ago, a rocket fell on Yaseen's house. Although he was rushed to hospital, his injuries were so serious that he had to be transferred to another facility, in Jordan.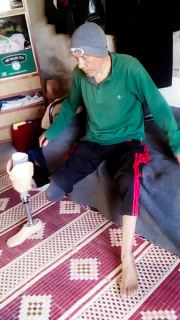 Having left his family behind, this former school teacher was determined to return to his country as soon as he would recover. When he left hospital, and despite his amputation, he crossed the border again and returned to his home and family.
Since his return to Syria, Yaseen has been receiving rehabilitation care to help him adapt to his new situation. Mohammad, a physiotherapist, is helping Yaseen on his road to recovery. After putting on his artificial leg, the old man walks with Mohammad outside the health centre. It is important that Yaseen gets used to going out with his artificial leg, provided by Handicap International. The two men take a few steps and Yaseen shares his hopes with Mohammad.
"I want to return to my old life," he says. "And I'd like to be able to live in better conditions."
Years of conflict have taken their toll on him and he now plans to leave the country with his family. Although he can walk again, Yaseen is tired and dreams of a better future abroad.
"The living conditions for my family and me are very difficult here," he explains. "I can't collect my pension from the public offices because I'm afraid of being arrested. We don't have any income and we only survive thanks to help from our friends, who cover our expenses."
Like many other Syrians, the services provided by Handicap International and which Yaseen beneficiates from, are vital.
"This centre is the only place where I can go receive physiotherapy care without having to pay for it," he adds. "And thanks to the organisation's help, I can now walk with my artificial limb."