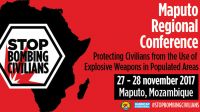 From 27th to 28th November, Handicap International (HI) is organising a regional conference on the bombing of civilians. The Conference will take place in Maputo, Mozambique and aims to bring together some 20 States, 10 African civil society organisations and international NGOs. The goal is to raise awareness of this vital challenge among African countries and to encourage them to take action on the world stage to protect civilians from the devastating impact of the use of explosive weapons in populated areas.
Liberia
Rwanda
Burundi
Somaliland
Egypt
Central African Republic
Libya
Mali
Morocco
Mozambique
South Sudan
Burkina Faso
Niger
Madagascar
Sierra Leone
Togo
Algeria
Democratic Republic of Congo
Chad
Guinea-Bissau
Ethiopia
Kenya
Senegal
---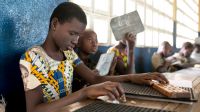 Since 2012, Handicap International has been improving the school enrolment and attendance of 170,000 children with disabilities in nine West African countries through the "Promoting the Full Participation of Children with Disabilities in Education" (APPEHL) project. Sandra Boisseau, who coordinates APPEHL from Dakar, Senegal, explains what the organisation is doing to remove obstacles to education for these children.
Liberia
Mali
Burkina Faso
Niger
Togo
Benin
Guinea-Bissau
Senegal
---