Neymar Jr. becomes Handicap International ambassador
The Brazilian football player Neymar Jr. became the new ambassador of Handicap International on 15th August 2017. An event was organised in Place des Nations in Geneva to mark the occasion. Through this partnership, Neymar is using his huge fame for a good cause: to support the most vulnerable people in the world, people with disabilities in poor countries, victims of conflicts and natural disasters.
Neymar Jr. with Manuel Patrouillard, General Director of Handicap International, by the Broken Chair monument in Geneva. | © Pierre Albouy´Çó/Handicap International
Neymar's first action as Handicap International's global Ambassador was on top of the 'Broken Chair' monument in Place des Nations, Geneva where he sent a message of support to people with disabilities across the world.
Broken chair is the work of the Swiss artist Daniel Berset, erected twenty years ago by Handicap International in front of the United Nations headquarters in Geneva to call for a ban on antipersonnel landmines.
While at the top of the iconic sculpture in Geneva, Neymar Jr sent a message to all the nations in the world, to call for more inclusion of people with disabilities in society.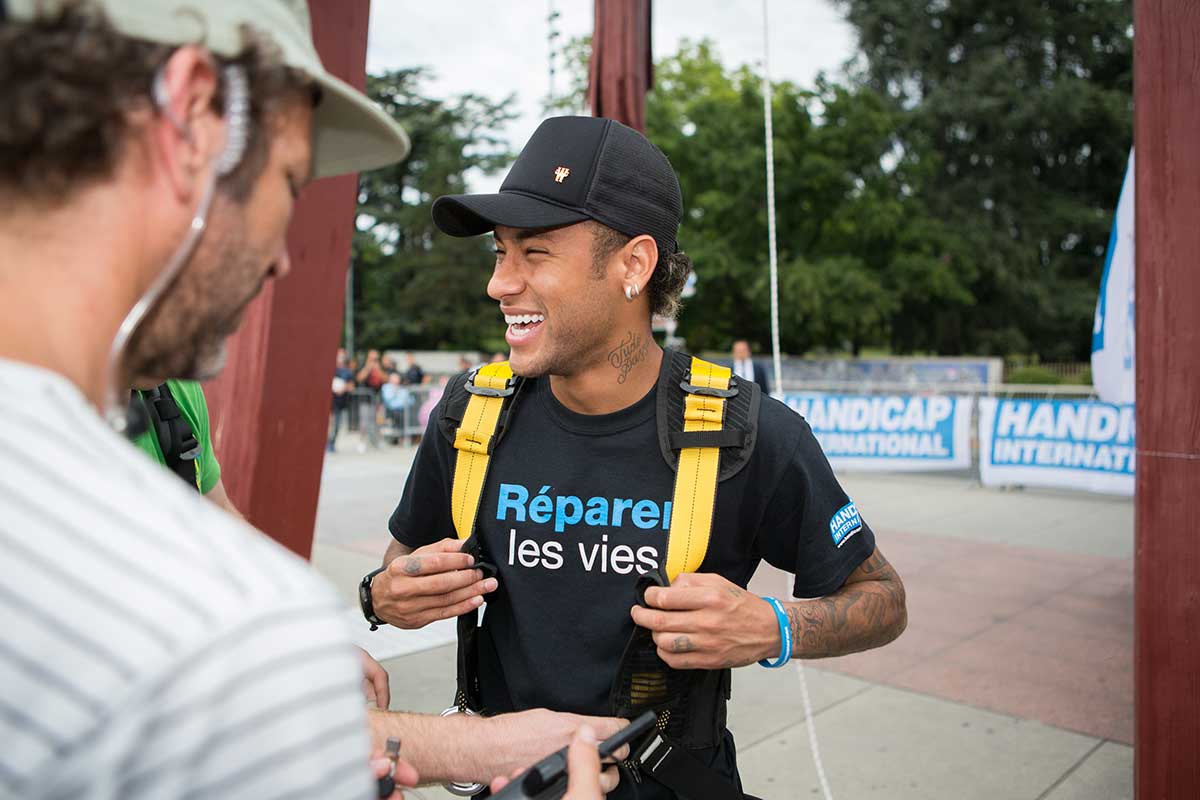 © Pierre Albouy Çó/Handicap International
Symbolically, this message took the shape of a football with the Handicap International logo on it. The ball was kicked down the line of flags in front of the Palace of Nations. The event was followed by a press conference hosted by the United Nations Office at Geneva.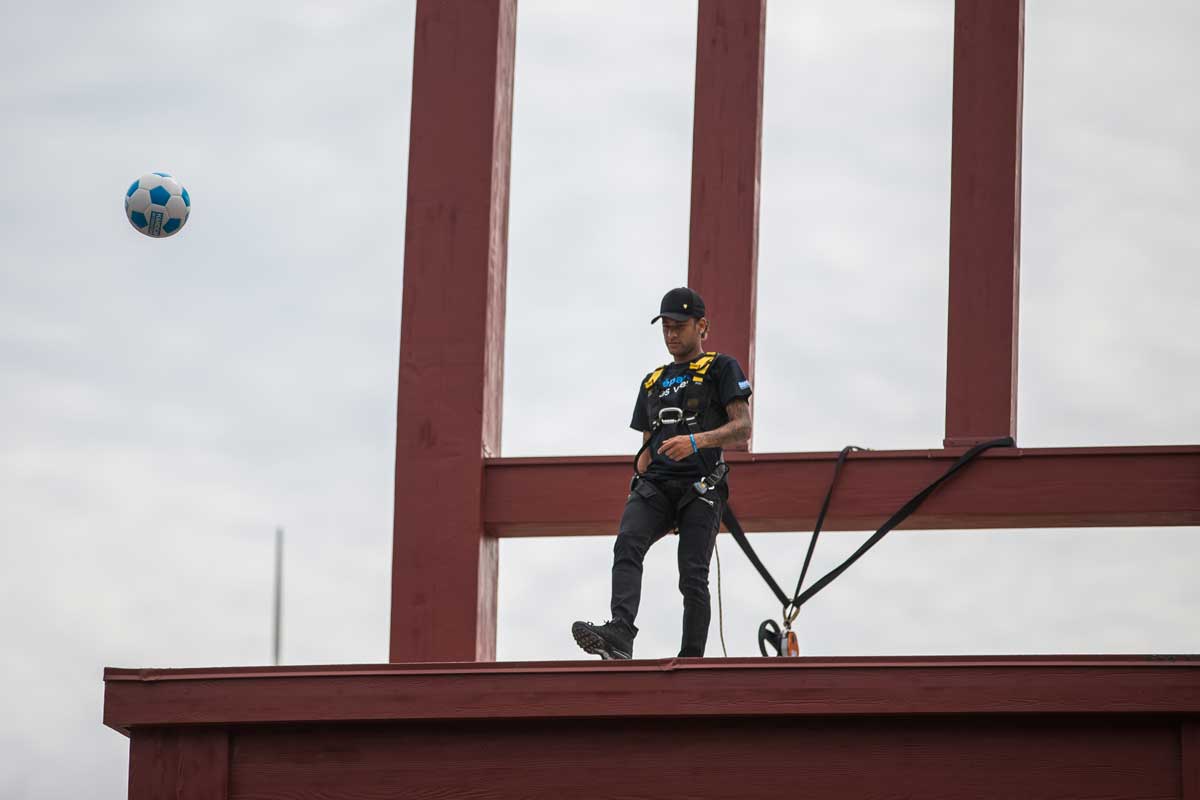 © Pierre Albouy Çó/Handicap International
"I would like to begin by thanking you all for what you do for the least visible in the world, so they become more visible. I have to say that I am very pleased to be here and to be the new ambassador," the 25-year-old told a news briefing.
"I hope this will be a very successful partnership and that we will be able to help a large number of people," he said. "Millions want their rights, they want to be treated better. That's what we are here for and that is what our aim is."
More broadly speaking, Neymar Jr. has chosen to engage with Handicap International and to promote all of the charity's work towards people with disabilities in poor countries and victims of natural disasters and conflicts.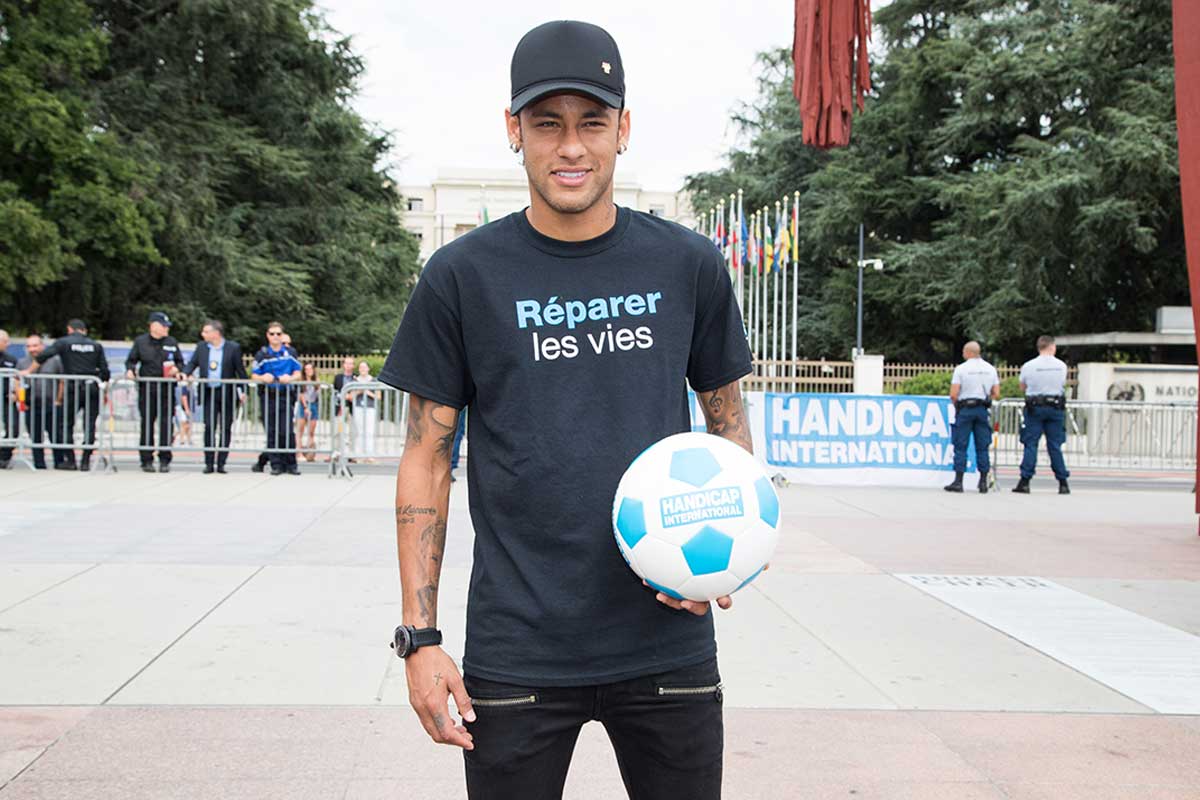 © UN Photo/Elma Okic
The star and Handicap International originally met through the issue of access to prosthetics for amputee children, which is a topic particularly close to Neymar Jr.'s heart and one which which he has already supported. He wanted to support actions on this issue on a global scale and got to know Handicap International's work at the beginning of 2016. He expressed the wish to go to the field to see the charity's projects. This has not been possible yet because of his busy schedule.
In October 2016, Neymar Jr. showed his support to Handicap International's actions in Haiti on social media, following Hurricane Matthew. He answered positively to Handicap International's invitation to come to Geneva for the "Broken Chair" event.
He becomes the first Global Ambassador of Handicap International.
Check out the news coverage
? Paris Saint-Germain new boy Neymar takes up goodwill ambassador position for Handicap International (MailOnline)
? Neymar becomes goodwill ambassador for world's disabled (Reuters)
? PSG star Neymar shows his skills on 39-foot chair outside United Nations as he's unveiled in new global charity role (Mirror)
? WATCH: Neymar reaches new heights on giant chair statue (Sky News)