Humanity & Inclusion UK supports HI's programmes worldwide, by raising funds, influencing policy, and providing technical support. We also manage the rehabilitation component of The UK Government's Emergency Medical Team, the front line of the UK's response to a humanitarian crisis overseas.
Rajab, 63, with Sally, an HI physiotherapist, in Azraq refugee camp, Jordan. | © Corentin Fohlen/HI
Humanity & Inclusion UK supports the organisation's programmes worldwide, by raising funds and providing technical support.
We also run major projects, including managing the rehabilitation component of the UK Government's Emergency Medical Team and co-ordinating a project to improve the collection and use of data on disability in humanitarian contexts. In addition, we actively campaign for the protection of civilians in conflict zones, and the inclusion of people with disabilities in humanitarian aid and development projects.
More details about our UK activities are available below.
Raising funds
Humanity & Inclusion UK raises money from the general public, schools, groups, corporates, trusts and institutional funders in the UK to support the organisation's work worldwide. HI UK is a member of the Institute of Fundraising and aims to adhere to best practice in fundraising. We are also a member of the Remember a Charity consortium which aims to increase the awareness and uptake of giving through legacies.
Supporting field programmes
In 2017, with the generous support of the UK public and institutional donors, HI UK supported 23 countries, as well as our Middle East and West Africa regional programmes and six global programmes. The projects supported cover a wide range of HI's work, including emergency relief, demining, rehabilitation, and inclusive education.
> Read more about our UK finances
The UK Emergency Medical Team
The UK Emergency Medical Team (UKEMT) is the front line of the UK Government's response to a humanitarian crisis overseas, such as an earthquake or tsunami. Since 2013, HI has been working to integrate rehabilitation into the UKEMT. This means that now, as well as surgery and emergency healthcare, patient care includes early rehabilitation to reduce the long-term disabling consequences of traumatic injuries.
Disability data in humanitarian action
Humanity & Inclusion is working to improve the availability of quality data on persons with disabilities and increase its use by humanitarian organisations, through a project funded by UK aid.
Inclusive education
Humanity & Inclusion's inclusive education projects around the world are supported by two Technical Advisors, with the principal advisor based in the UK. In 2017, HI supported 37 inclusive education projects in 29 countries. We also worked on changing policies at national level in countries such as Liberia and Nepal, and we were involved in lobbying for the inclusion of children with disabilities in a number of high profile events and meetings in the UK.
Influencing disability policy
Humanity & Inclusion UK advocates for the inclusion of disabled and vulnerable people in humanitarian aid and development contexts. Our work is focussed on enabling the UK Department for International Development (DFID) to become world leaders on disability inclusion.
In 2017, we supported the UK government to refresh their education policy (released in February 2018), started contributing to the plans for the UK government's Global Disability Summit in 2018, and continued our ongoing support to various teams within DFID to achieve their ambitious commitments towards better inclusion of disabled people in their programmes of work.
We launched a new project, together with UNICEF and the International Disability Alliance, to develop guidance for international humanitarian agencies on how to effectively include people with disabilities in disaster response interventions. And, in May 2017, with partners, we successfully ran an event chaired by DFID with major international charities to mark progress one year on from the launch of the Humanitarian Disability Charter.
Knowledge management
HI prides itself on its work to develop organisational learning, and to spread good practice and innovation. Jointly with our colleagues in France, we manage Source, an international online resource centre on disability and inclusion, which provides free access to key resources, tools, manuals and policy papers across development and humanitarian contexts.
Awareness-raising
Humanity & Inclusion UK works with local clubs, community groups, schools, and individuals across the UK to raise awareness about the devastating effects on civilians of landmines, cluster munitions and other explosive weapons. We continue to build support for our global Stop Bombing Civilians petition, calling on the UK and all states to commit to ending the use of explosive weapons in populated areas.
---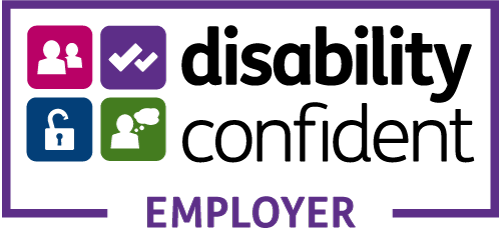 Humanity & Inclusion UK is positive about employing disabled people and is proud to be accredited as a Disability Confident Employer. Find out more about working with us.
A global hub for international development, the UK has committed to spending 0.7% of its gross national income on aid.
The Department for International Development is focussed on ensuring that no vulnerable person is left behind, and aims to become a world leader on disability inclusion.
With a wealth of international NGOs, universities, think tanks, and networks such as Start and BOND, the country is known as a hub for good practices in the development sector, including innovation, monitoring & evaluation, resilience, humanitarian aid, and education.
In addition, the UK general public has a strong history of generous supporter for charities supporting people affected by poverty, natural disasters and conflict. There are also a large number of corporates and charitable trusts in the UK which support charities in a range of ways.
There are currently three major external factors with the potential to affect HI UK's work, both in terms of risks and opportunities: the Brexit referendum and future impact on funding, reduced levels of public trust in charities, and tightening private fundraising regulation. HI UK is working to take these factors into account and to build strong links in the UK to support our cause.
Image © C. Fohlen/Hl.