Climate Change: A major threat to the world's most vulnerable
An increase in climate-related disasters is having a disproportionate impact on people with disabilities and other vulnerable groups, putting HI's work under pressure.
Volunteers carry a woman with a disability during an HI disaster simulation exercise, Haiti. | © Jéthro-Claudel Pierre Jeanty/HI
For the past 15 years, HI has been working around the world to help communities prepare for disaster. We have seen first-hand how an increase in extreme weather events linked to climate change is battering the most vulnerable, especially people with disabilities.
A growing threat
HI is responding to an increasing number of extreme weather disasters and chronic climate emergencies. An average of 60 more climate-related disasters per year occurred worldwide between 2007 and 2017, compared to the previous decade. HI considers extreme weather linked to climate change a significant and growing threat to the wellbeing of our beneficiaries and vulnerable groups around the world.
In addition to the immediate impact of sudden onset emergencies such as cyclones, many research studies show that climate change has indirect but severe consequences on vulnerable groups, ranging from armed violence to food insecurity, water scarcity, mass migrations and loss of livelihoods.
Disproportionate impact on vulnerable populations
Although increased risks affect everyone, extreme weather has a disproportionate impact on vulnerable populations and especially people with disabilities.
People with disabilities are particularly affected by natural hazards as they are more likely to live in poor and risk-prone areas and are frequently excluded from emergency preparedness plans.
Data from the UN Office for Disaster Risk Reduction (UNDRR) demonstrates just how isolated and at risk they may be in the event of a disaster. Globally, only 1 person with disabilities in 5 is in capacity to evacuate without difficulties in the event of a disaster; only 17% are aware of a disaster management plan in their community, and following a disaster, 75% of persons with disabilities believe they are excluded from the humanitarian response.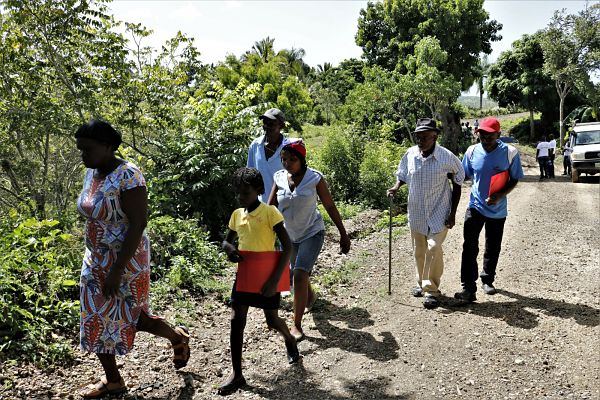 © Jéthro-Claudel Pierre Jeanty/HI A volunteer assists an elderly man during HI's disaster simulation exercise, Haiti.
Preparation can save lives
In a remote commune of North-West Haiti, volunteers in orange vests carry a woman on a stretcher down a rocky hillside. Fortunately this is only a drill. The volunteers are testing if emergency preparation measures they have put in place ensure that every member of their community can reach safety in the event of a natural disaster. The entire municipality is being evacuated.
Thanks to a collaborative project run by HI and civil protection partners, participants know how to provide information, warnings and assistance for people with disabilities, children and the elderly. Places of safety, accessible to all, have been prepared in advance. In a poor and isolated area of the disaster-prone country, these preparations offer the best chance of survival.
About HI's Disaster Risk Reduction work
HI has been implementing Disaster Risk Reduction (DRR) and Climate Change Adaptation activities for 15 years
We are currently running 20 DRR/CAA projets in 16 countries
HI helps other DRR actors to be inclusive of people with specific needs