Fayaz, 5: If I grow, will my legs grow too?
Explosive weapons
Rehabilitation
Kashmir, India. When Fayaz was 3-years-old, his legs were injured by an explosive shell. One year later, Humanity & Inclusion fitted him with artificial limbs. Back on his feet again, he's now a budding cricket star.
© Lucas Veuve/Handicap International
A beautiful golden light falls on the mountains of Kashmir. Simran, a six-year-old brown-haired girl, and her three-year-old brother Fayaz, are playing close to their home. Simran walks up to an unusual object on the ground. "A ball!" she cries, as she bends down to pick it up. There is a loud explosion.
"I can still hear them screaming, 'Firdousa, you've lost everything!' It was a living nightmare," says Firdousa, their mother, sadly.
"We were living in a village close to the border, contaminated by explosive remnants of war. It was an explosive shell left on the ground. My daughter died on the spot".
The family hid the truth about Fayaz's condition from Firdousa for a week. They didn't want to make the situation even more difficult to bear. "I knew my daughter was dead. But they said Fayaz had just been injured."
When she finally made it to the hospital, Reyaz, her husband, went with her: "Please, stay calm, don't scream" he said. But when she saw Fayaz lying in bed, with two stumps instead of legs, she collapsed in shock.
"I just wanted to end it all. I took Fayaz in my arms. He asked me why I was crying. I said I had a cold. Day after day, he kept telling the doctors, 'Give me some poison to kill the pain. I don't want mum to worry'."
If I grow, will my legs grow too?
The following days and weeks were hard. One morning, Firdousa and Reyaz packed their bags, said goodbye to their friends and relatives, and left their village with their two sons. "With Fayaz as he was, we couldn't stay in the countryside. The health centres are too far away and there are too many hills. We rented a small room in a building in town, in Srinagar. The separation was painful," explains Firdousa.
Fayaz tried to overcome his loneliness and his sense of injustice. He struggled to understand what had happened, asking: "If I grow, will my legs grow too? If they put a bandage on my sister's head like they did with my leg, will it make her come back?"
Haunted by the loss of his sister, the little boy started having fits of anger, breaking his toys. It is a heavy burden for a four-year-old boy to bear.
But a few months after the accident, a physiotherapist supported by Humanity & Inclusion visited Fayaz's family. Fayaz was immediately given rehabilitation care to loosen his limbs and improve the firmness of his stumps to get them ready to be fitted with artificial limbs.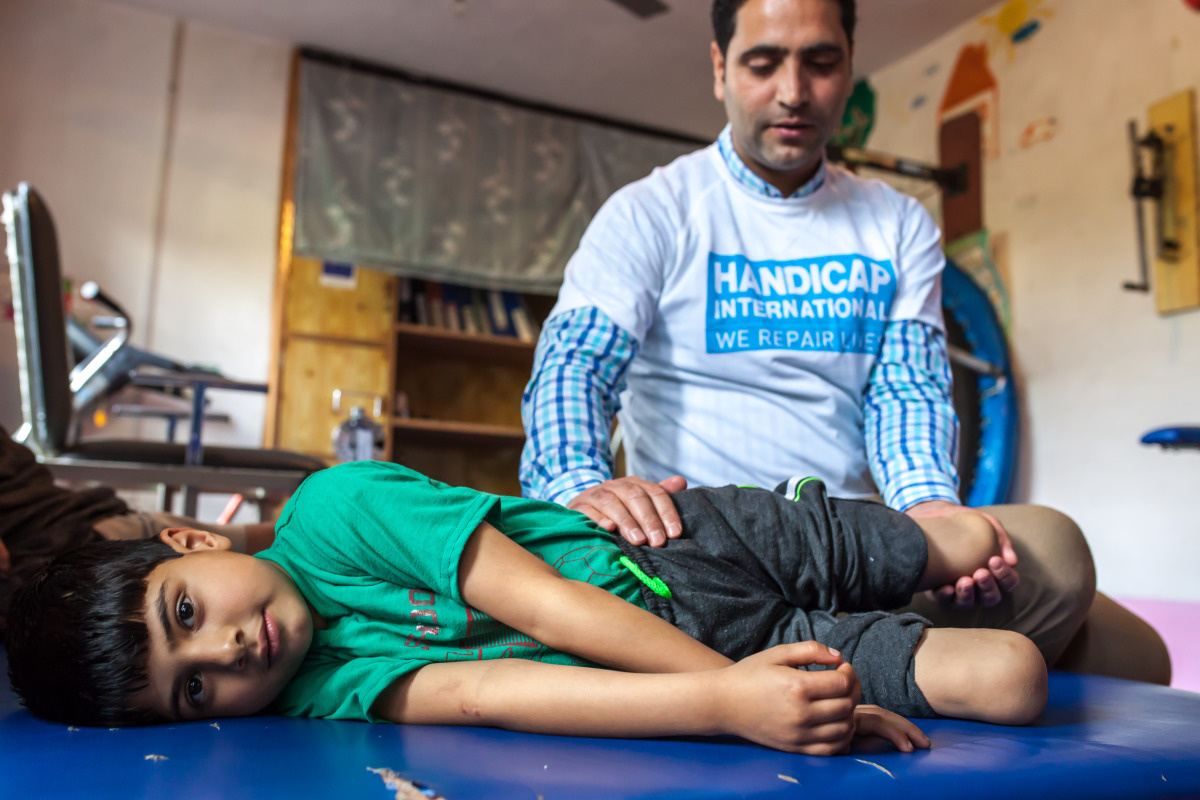 © Lucas Veuve/HI
In his lifetime, Fayaz will need 25 pairs of artificial legs
After 10 months of rehabilitation, he was finally ready. At Hope Disability Centre, Humanity & Inclusion's partner rehabilitation centre, Fayaz was fitted with two artificial limbs. He quickly learnt to walk again and received regular follow up care from HI.
"Fayaz is a hyperactive child. He crawls around on all fours really fast. His little arms are very strong," explains Muddasir Ashraf, HI's Disability manager in India. "But he needs to learn to use his artificial legs properly and to develop his balance.
"Fayaz is going to grow up fast. We will have to change his prostheses every two years until he is older. Throughout his life he's going to need 50 artificial legs in total, 25 for each leg."
In May 2016, Fayaz was able to return to school, looking smart in his uniform and carrying a backpack.
"Fayaz likes school, except when he can't go out and play. When the other children ask him what happened, he mumbles something about falling off a roof. Then he curls up in a ball and he's impossible to comfort," says Firdousa.
"And he always asks the same questions: 'Where's my sister? When is she coming back?' It's painful but we don't lie to him. We don't want to give him false hopes."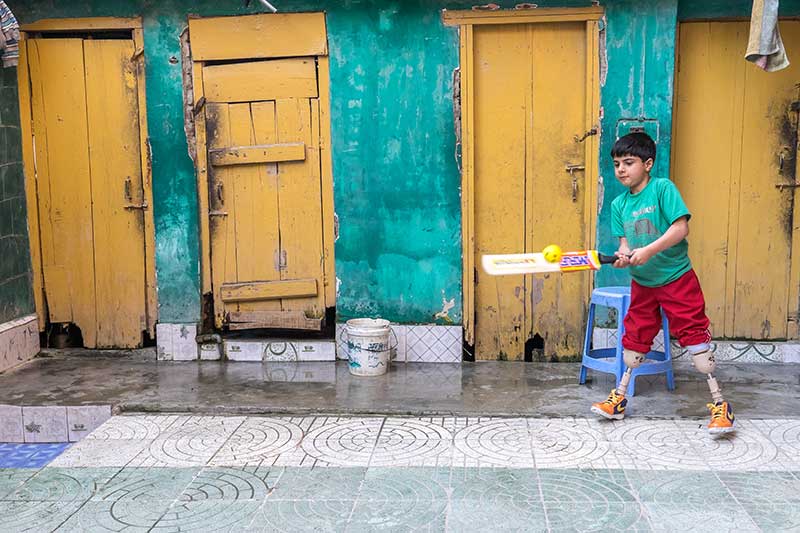 © Lucas Veuve/HI
Dreaming of becoming a cricket star
Fayaz grabs the cricket bat and runs outside. "He loves cricket," explains Firdousa with a smile. "There are so many things to worry about. We don't earn much. Fayaz's treatment is expensive. What's going to happen to him when we're not here anymore?"
"But we're relieved we can count on support from HI. And thanks to his artificial legs, we're happy to see that our little boy is standing tall again."
Fayaz straightens his back and concentrates hard. His brother throws the ball directly at him and he hits it with a sharp, neat thwack. The neighbours clap and he smiles with pride.