Flavio: "The swimming pool is the best psychologist I could ever imagine"
Explosive weapons
Rehabilitation
After losing his left leg to a landmine, Flavio was encouraged by our physiotherapist to take up swimming as part of his rehabilitation. Today Flavio is training to swim for Colombia at the 2016 Paralympic Games in Rio de Janiero.
Flavio, the landmine survivor swiming all the way to the Olympics. | © Bas Bogaerts / Handicap International
In 2000 Flavio lost his left leg after he stepped on a landmine in a field where he was working. The accident happened in Putumayo, a region plagued by conflict between armed opposition groups, the army, and criminal gangs. The ground there is riddled with landmines, which are a daily threat to local people.
Several years later, Flavio moved to the city of Medellin to find better care for his leg, where he met Handicap International's team.
"When I first arrived I was using a makeshift prosthesis that was held together with band aids and tape," says Flavio. "I got my current prosthetic leg from Handicap International. It is finally a proper prosthetic leg that allows me to be completely mobile. Thanks to my prosthesis, I can drive a motorcycle and get around on my own. It changed my entire life."
Flavio's rehabilitation sessions had an another, unexpected, life-altering impact. His Handicap International physiotherapist, Yanrieth, encouraged Flavio to start swimming as part of his rehabilitation. He took this advice, and hasn't stopped swimming since.

"Swimming made me feel better, both physically and mentally, and I gradually increased the intensity of my training," says Flavio. "In 2013, I made a decision: I would train and compete full time in order to qualify to compete in the 2016 Paralympic Games in Rio."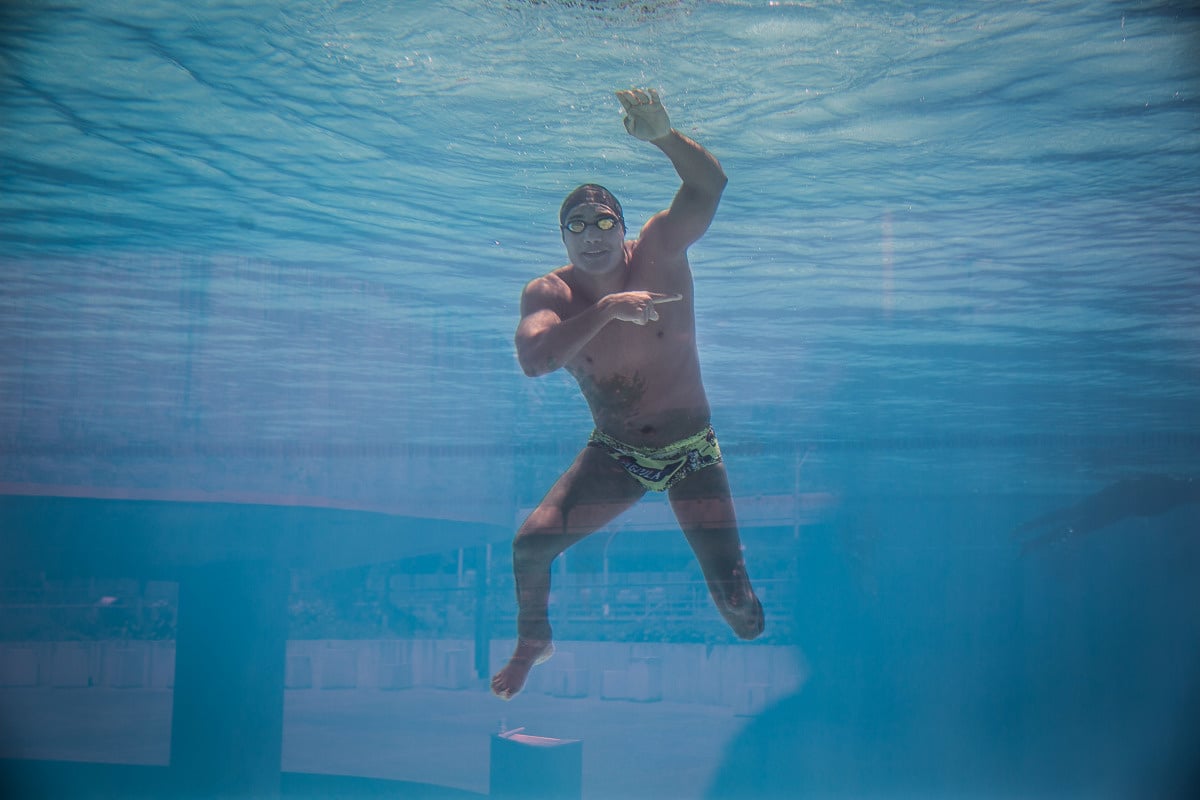 © Bas Bogaerts / Handicap International

When Flavio didn't receive the sport subsidies in time that he needed to attend an important qualification event, Handicap International stepped in to support him. Flavio took first place in the event, which secured him a spot in the national championship and brought him a step closer to the Paralympics.
"It is now or never," siad Flavio at the time. "The Paralympics only take place once every four years. Four years from now, my physical capacity will probably be less than it is now. If I don't make it into the selection now, I will try again one last time next year."
"I still find it difficult to think about the accident that brought me to this point, but thanks to the swimming, I move on a little bit every day. I consider myself very lucky to have discovered swimming. The water cures me. The swimming pool is the best psychologist I could ever imagine."