Humanitarian aid should be accessible for all
In emergency situations, many vulnerable people do not get sufficient assistance, either because of their disability or their isolation. On World Humanitarian Day, Handicap International is reaffirming its commitment to make humanitarian aid accessible to every person affected by a crisis.
© Handicap International
Ecuador, Democratic Republic of the Congo, Nepal, Yemen, Ukraine, the Middle East, Sierra Leone, Libya, Philippines… millions of people are currently affected by epidemics, disasters and war. In these situations, people with disabilities, older people, and isolated people are the most disadvantaged.
75% of people with disabilities do not have sufficient access to humanitarian aid.
Making humanitarian aid accessible
Since its foundation, Handicap International has used its expertise to help the most vulnerable people. In 2015 alone, our organisation supported 740,000 people in 24 countries. Almost half of them were Syrian refugees living in Jordan, Lebanon and Iraq.
Handicap International works to improve the lives of the people affected by humanitarian crises, by providing technical support to hospitals and health staff; rehabilitation to people who have been injured or disabled, and psychosocial support to those living with the trauma.
Handicap International also helps to extend the reach of partner humanitarian organisations. By setting up and managing logistics platforms in crisis-hit countries, Handicap International makes sure that aid gets through to people isolated in the most difficult-to-reach regions. The organisation currently runs two logistics platforms, one in North Kivu (Democratic Republic of the Congo) and one in the Central African Republic.
New Charter to make sure disabled people are included
Handicap International advocated for the adoption of a Humanitarian Disability Charter promoting the inclusion of people with disabilities in humanitarian aid. Launched in May 2016 during the World Humanitarian Summit in Istanbul, the charter has been endorsed by 128 humanitarian organisations and States so far.
By endorsing the Charter, signatories commit to making humanitarian action inclusive of persons with disabilities, by lifting barriers persons with disabilities are facing in accessing relief, protection and recovery support and ensuring their participation in the development, planning and implementation of humanitarian programmes.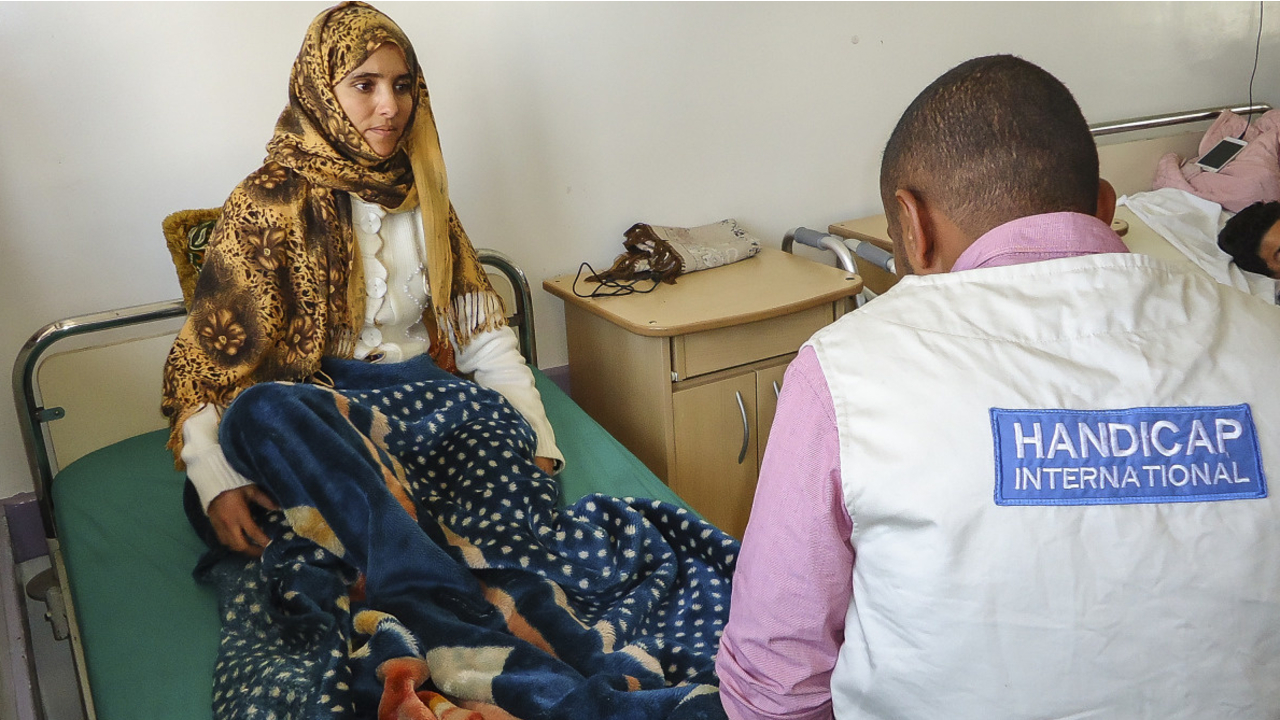 Supporting victims of the war in Yemen
Bushra, 24, is just one victim of the armed conflict that has been tearing Yemen apart for almost two years. She was gravely injured following air strikes on her hometown in Dhamar governorate.
Bushra was transported to Sanaa to receive medical care in one of the hospitals supported by Handicap International. The surgeons successfully operated on her and Bushra did not lose the use of her legs. Yet, after sustaining severe injuries and trauma, Bushra needed specific assistance to make a full recovery. Handicap International has provided her with a walker, rehabilitation sessions and psychosocial support.
Despite her recovery, she longs for peace: "All I want is... to have a normal life like everyone else in the world."