Meet Peter: A young children's rights advocate and probably a future politician and sports champion
Peter lives in Trans-Nzoia County, western Kenya. Although only 15, he is highly driven and a committed member of his community. Peter, who is deaf and uses sign language, is a sports captain and often top of his class. The ambitious young man is also playing a leading role in Handicap International's Ubuntu Care project, fighting to eradicate sexual violence against children.
Advocate, Peter, uses sign language. Kenya. | © Elise Cartuyvels / Handicap International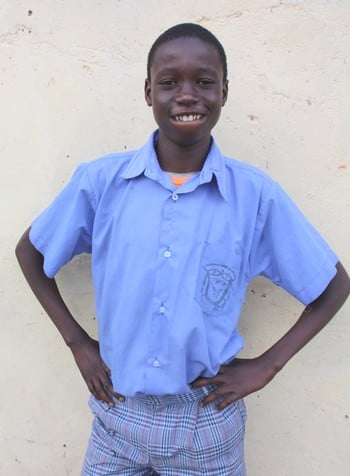 "Peter is the youngest of our six children. When he was five years old, he went to a specialist school, where he learned sign language. He gradually gained confidence and began to interact with other children," explains his father.
Today he is enrolled in the sixth year of a special primary school for deaf and hearing impaired children, where he applies himself to his studies. Not satisfied at coming second in his class, he is doing everything he can to make his grades even better and get back to the top of the class.
"Peter's incredible!" explains Lucy Muchiri, child protection officer for Handicap International's Ubuntu Care project in Kenya. "As part of the Ubuntu Care project, we give children from his school the chance to take part in the children's club, and raise their awareness of sexual violence."
"Children with disabilities are three to four times more likely to be victims of sexual violence. And 90% of children with intellectual impairments have suffered some form of sexual violence. That's why it's so important to teach children about their rights."
"Peter is closely involved in the project. He's also a member of Ubuntu Care's children advisory committee, the project's decision-making body for children. He expresses himself in sign language and comes up with some great ideas."
"It was amazing"
As a result of his involvement in the Ubuntu Care project, Peter has become an expert in children's rights. With the support of Handicap International, he is now one of 42 children from his county elected to the County Children's Assembly, which is organised regionally, and to the Kenya Children's Assembly, which is organised nationally. "I talked about children's rights at the children's assembly in Nairobi, with other young people of my age. They translated my speech. It was amazing. And I ate and slept really well in Nairobi," he says proudly.
"Being deaf and a children's rights advocate sends out a strong message, for Peter and for all children with disabilities. People still have reservations about disability here. When they meet Peter, they say: ''Even people with disabilities are worth their weight in gold!' He puts a lot of energy into everything he does. He's the school's sports captain and he's very driven. Sometimes a little too much," his father adds with a smile. "And when you ask him what he wants to be when he's older, he says without hesitation: 'sports champion... or a member of parliament."
Watch the film "Through our eyes" Made by by young people supported by Handicap International's Ubuntu Care project (22 mins) :
About the Ubuntu care project
The project aims to empower children as active citizens; empower communities to better protect children from sexual violence; enhance access to support services and promote more effective systems to prevent violence and protect the victims of violence throughout society. The project involves 100,000 children in Burundi, Kenya and Rwanda.