Syria crisis: UK Aid helps Ahmed learn to walk again after months without care
Ahmed has lived in Azraq camp in Jordan with his wife and three children since April 2016. Caught in an air strike in Syria, Ahmed was hit in the head by shrapnel and sustained a traumatic brain injury. Over the last few days, Handicap International has been helping him learn to walk again. The UK Department for International Development (DFID) provides Handicap International with support as part of its response to the Syrian crisis in Jordan.
© Elisa Fourt/Handicap International
In April 2015, Ahmed, his wife and their children were still living in Syria. One morning, Ahmed went out to buy bread and fruit for his family's breakfast when he was caught in an air strike.
After being hit in the head by shrapnel, he was found unconscious by strangers and taken to a hospital in Turkey. He spent forty days in a coma and two months in the hospital. Soon after, weak but alive, he was able to return home to Syria.
Living under the constant threat of air strikes, the family decided to leave Syria a few months later and take refuge in Jordan.
A difficult journey
It was difficult for Ahmed to move around so the journey to Jordan was "long and full of challenges", explains his wife. The family were delayed several times. "We had to wait two weeks before we were able to enter Jordan, because we were held up at the border like thousands of others," he recalls.
In Azraq camp, Ahmed and his family now live in a caravan of 20 square metres. "It's a big shared room where we cook, eat and sleep," he explains. "We had a big and beautiful house in Syria," Ahmed says nostalgically.
Learning to walk again
Assisted by Handicap International since they arrived in Azraq camp, Ahmed has been given a walking stick, a wheelchair and a toilet chair. With weekly assistance from a physiotherapist and his children's encouragement, he now finds it easier to move around without help, but still has a long way to go.
Apart from receiving equipment, Ahmed benefits from physical rehabilitation. He will have eight physiotherapy sessions and six occupational therapy sessions, once a week, on average. One of Handicap International's social workers also provides Ahmed and his family with psychosocial support.
Ahmed also wanted to have an operation on his eye, which was damaged in the air strike that almost cost him his life a little over a year ago. He has tried everything he can think of, but he can't have the operation in Azraq camp and he doesn't have the money to pay for the operation in a hospital in Jordan.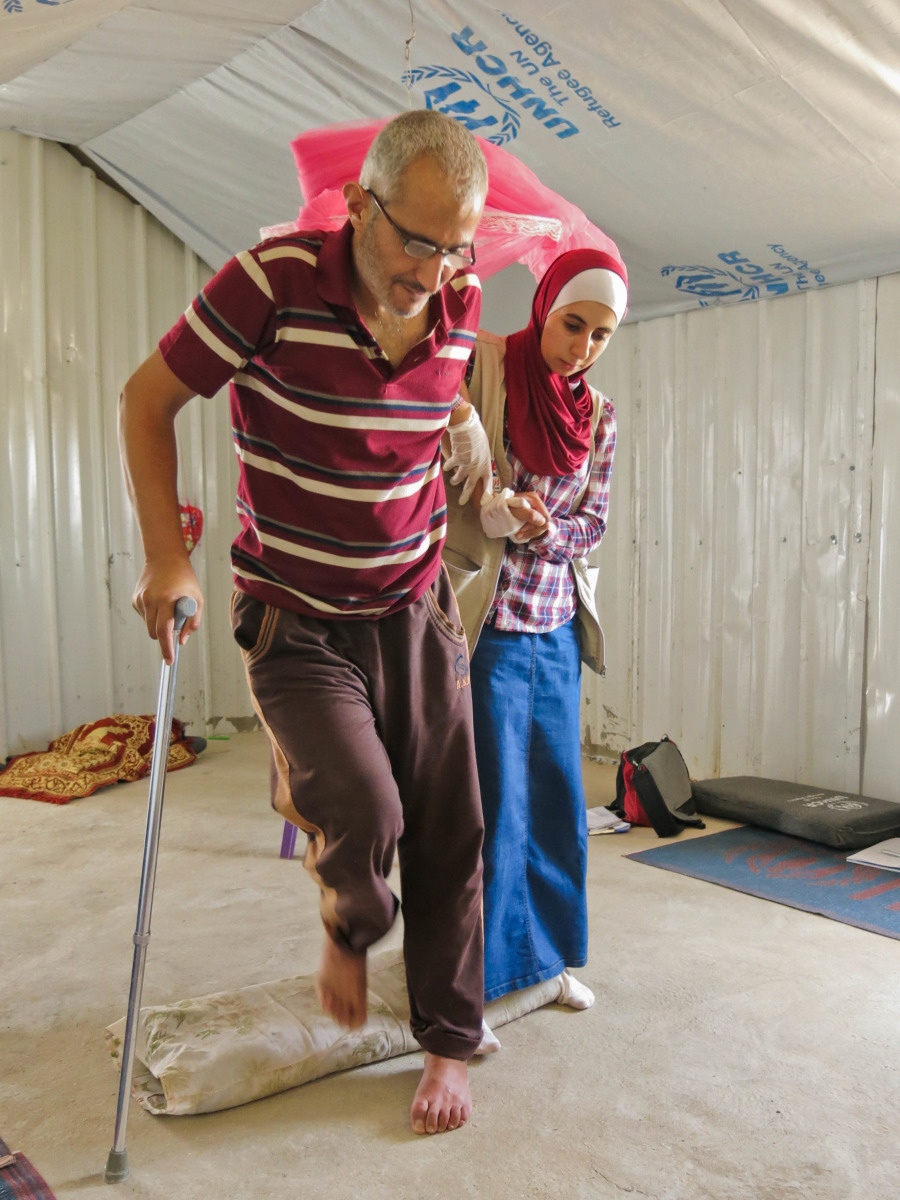 © Elisa Fourt / Handicap International