The shocking story of one-year-old Ali
In April 2017, one-year-old Ali and his family were used as human shields in Mosul, Iraq. Caught in a bombing, Ali was severely injured and both his parents and brother were killed. The baby boy is currently being treated at a hospital south of Mosul. His aunt and uncle are taking care of him and Khaled, an HI physiotherapist, is supporting Ali's recovery.
© E. Fourt/HI
In Qayyarah hospital, the heat is stifling. Mosquito nets have been installed over each bed, to protect patients from the hundreds of flies buzzing around the ceiling. In the women and children's room, a dozen beds are lined up, one by the other. Somewhere, a baby is crying.
Through one of the mosquito nets, you can make out the silhouette of a young woman holding a little boy in her arms. Khaled, Handicap International's physiotherapist, walks toward the bed and the baby's cries gradually stop. Ali, intrigued, looks at Khaled.
"How is he today?" asks the physiotherapist to the young woman holding the baby. "He's feeling very hot and his leg hurts, but he's strong and he'll recover," says Kitba, looking tenderly at her nephew.
Just a few months ago, little Ali was still living in Mosul, with his brother, sister and parents. But then the unimaginable happened.
"One day, as we were all sitting at home, armed men came to take us," says Kitba. "They gathered us with other inhabitants of our neighbourhood and took us to a school, to use us as human shields. Bombings soon started… and Ali's parents died instantly; his older brother too, who was only 9 years old."
Ali's grandparents, uncle and aunt survived the bombings and fled, carrying Ali and his sister in their arms.
"As we were running towards an army-controlled area, bombings kept getting stronger. It was as if it would never stop. My dad was so scared that he had a stroke. We were brought to a field hospital and then transferred here, in Qayyarah, a few days ago."
Let's stand together against injustice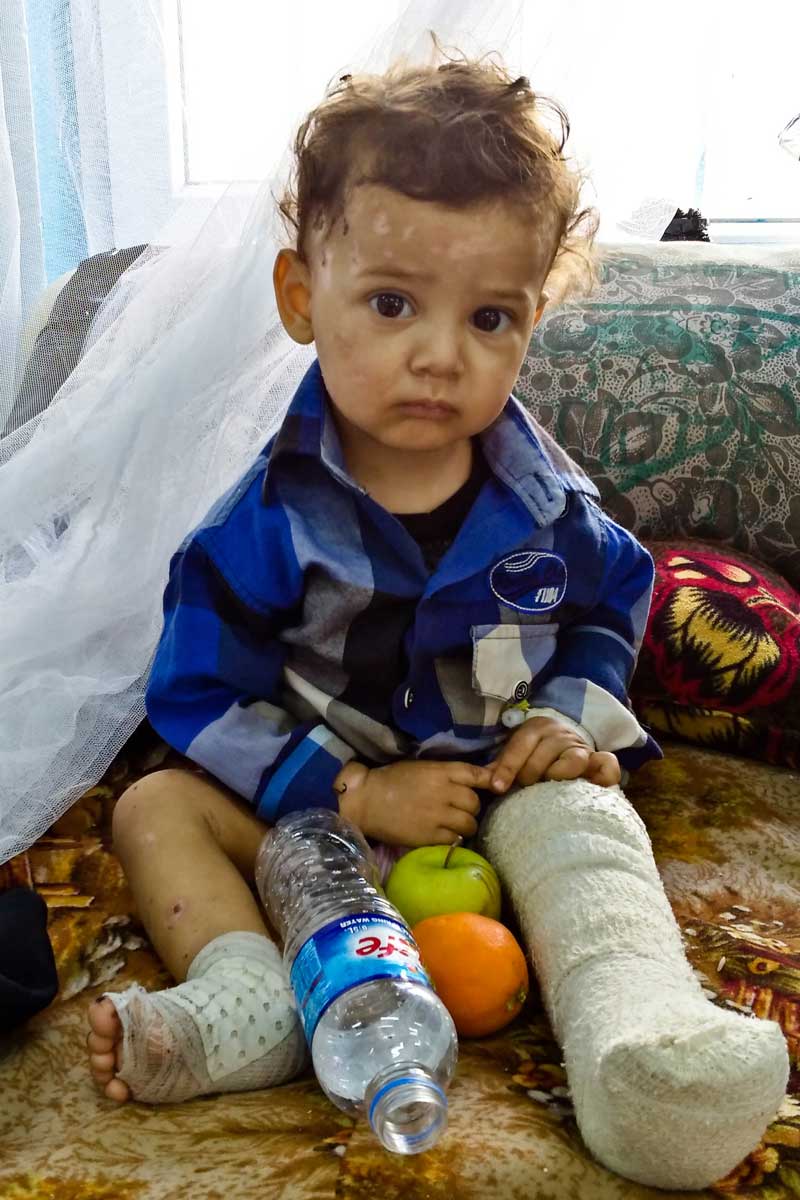 © Elisa Fourt/HI
Long and difficult road ahead
As Kitba recalls their escape, Ali plays with an apple and an orange, given by the hospital staff for lunch. Big scars are still visible on his face and he has trouble moving with the cast on his leg. "He still has shrapnel encrusted in his body and his leg was broken in the bombing", comments Kitba.
Khaled advises her on how to facilitate her nephew's recovery. "At this stage, we can't do much more than that. Ali is too young" explains the physiotherapist. "But as soon as the doctors will remove his cast, we'll provide him with physiotherapy sessions. It is essential if we want him to recover well."
Kitba already seems to treat Ali as a second mother. She listens carefully to what Khaled tells her. "When we'll leave the hospital, my nephew will come with us", she says with tears in her eyes.
"His future is in God's hands but my only wish is for him to be happy, just like for my own son. When he is old enough to understand, I will tell him what happened to his parents. And I want everybody to know their story, not only Ali."
Let's stand together against injustice
Our team is giving essential care to Ali and many more innocent victims of war, but we can't do it without you. Your gift today could help us provide rehabilitation to injured children like Ali, giving them hope for the future.