"They are inseparable": Nirmala and Khendo, 2 years after the Nepal earthquake
Nirmala, 9, and Khendo, 10, both had limbs amputated after being injured in the huge earthquake which hit Nepal on 25th April 2015. Humanity & Inclusion's team has provided them with ongoing rehabilitation care and prosthetic legs. With the right support, two years later the girls are both walking and back at school. Their transformation has been amazing.
© Lucas Veuve/HI
On 25th April 2015, the earth shook in Nepal. In Okhaldhunga district, Nirmala, a 7-year old girl, was trapped beneath a collapsed wall. At the same time, in the Sindhupalchok district, Khembro, also 7, was buried underneath the rubble of her house. The two girls were rushed to the Bir Trauma Center in Kathmandu and both had a leg amputated.
Sudan Rimal, an HI physiotherapist, supported the girls from the very beginning when they were in hospital.
"I have been working with them since their accidents," he remembers. "I have delivered numerous rehabilitation sessions, first at the hospital where they stayed for three months, then at the National Disabled Fund, a rehabilitation centre and partner of Handicap International. Six months after the disaster, they both received a prosthesis and learned to walk again."
Fundraise to help children walk again
Our free fundraising pack is full of inspiring ideas to help you make a difference. For example, why not get friends and family together and organise a fundraising walk to raise life-changing funds. Every step counts!
Order your fundraising pack today
Alternatively, please email campaigns.uk[at]hi.org or call us on 0870 774 3737 to find out how you could get involved.
Their friendship is their strength
"They have made tremendous progress. The support they give to each other is incredible. Their friendship is their strength," says Sudan.
"Today, two years after the disaster, Nirmala and Khendo have grown up a lot. They still attend the rehabilitation centre, approximately once a month. They do muscle stretching and exercises to improve their flexibility."
"Their prosthetic legs are adjusted every six months, to adapt to their growth. They are more aware of their bodies and of the importance of doing their rehabilitation exercises. They can tell me when and where they are in pain. They understand what they feel, at least in part."
"They encourage each other to do their exercises and make progress. They are amazing," he adds.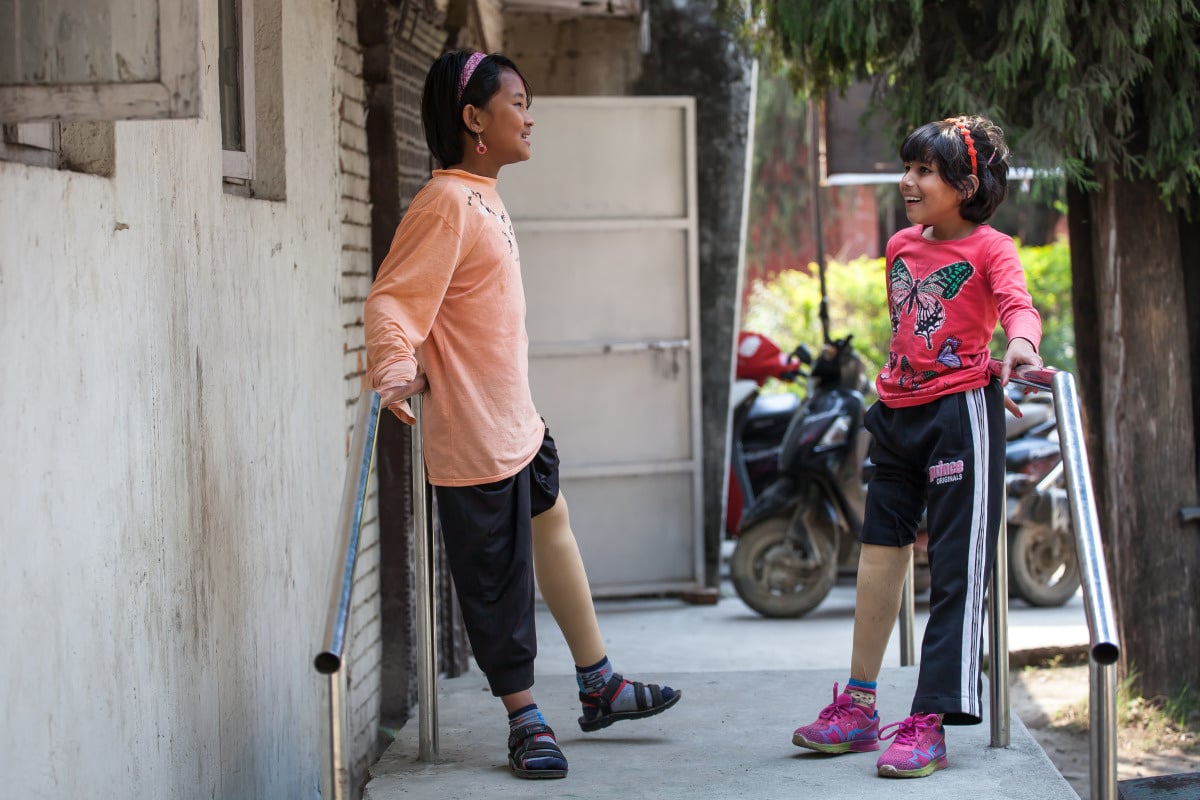 © Lucas Veuve/HI
Looking towards a bright future
The two girls' families stayed temporarily in Kathmandu following the earthquake, but Khendo's parents have since returned to the countryside to work the fields. Khendo is looked after by a guardian. Nirmala's parents are still living in the capital. The two girls are now in their second year at school.
"We also train teachers so they know how to help children with their rehabilitation exercises. They are very keen to learn and asked a lot of questions," explains Sudan Rimal.
Nirmala and Khendo love English, badminton and playing hide-and-seek. When asked about the future, Nirmala answers with a gleam in her eye, that she dreams of becoming an actress. Khendo wants to be a teacher, "to help children become good people."