"What did he do to deserve this?"
3-year-old Fayez was injured in a suicide attack in Syria, in 2017. He and his parents have since taken refuge in Lebanon. Partially paralysed when he arrived in the country, he is now being treated by a team from Humanity & Inclusion, which is providing him with physiotherapy care.
Fayez doing his rehabilitation exercises with Mariam. | © Elisa Fourt/HI
It is November 2017 and Mariam, an HI physiotherapist, is visiting Fayez. The boy and his parents arrived as refugees in Lebanon a few months' earlier, after spending several years in Syria at the heart of the conflict.
Soon after Mariam arrives at Fayez's home, she takes him in her arms and begins a new rehabilitation session in the family's living room. Fayez's mother, Noor, pays close attention as Mariam performs the exercises.
Halfway through the session, Fayez's father joins them in the living room. He smiles as he watches his son, delighted at the progress he's made since arriving in the country.
For Fayez and his family, the road to Lebanon has been a long one. Caught in several attacks, they've been displaced a number of times since the start of the conflict.
Noor says: "At the beginning of the year [2017], a missile fell on our house and hit my uncle, husband and brother-in-law. After that, we took refuge with my family in Damascus. We wanted my husband to get treated there."
"But when we arrived, we were hit by a second attack. One day, a man dressed in military clothes blew himself up next to us. I could just see blood everywhere, a bloodbath. People had been thrown backwards by the explosion and there were arms and legs detached from bodies. We started to look for my sons but we couldn't find them. People helped us and, finally, we found them at the hospital."
Fayez, their eldest son, was seriously injured. He had shrapnel stuck in his brain and he was partially paralysed.
"We came to Lebanon so he could be treated because we've lost everything in Syria. And the situation there had become unbearable. There were constant attacks and bombing and we weren't safe anywhere. It was very difficult to flee…"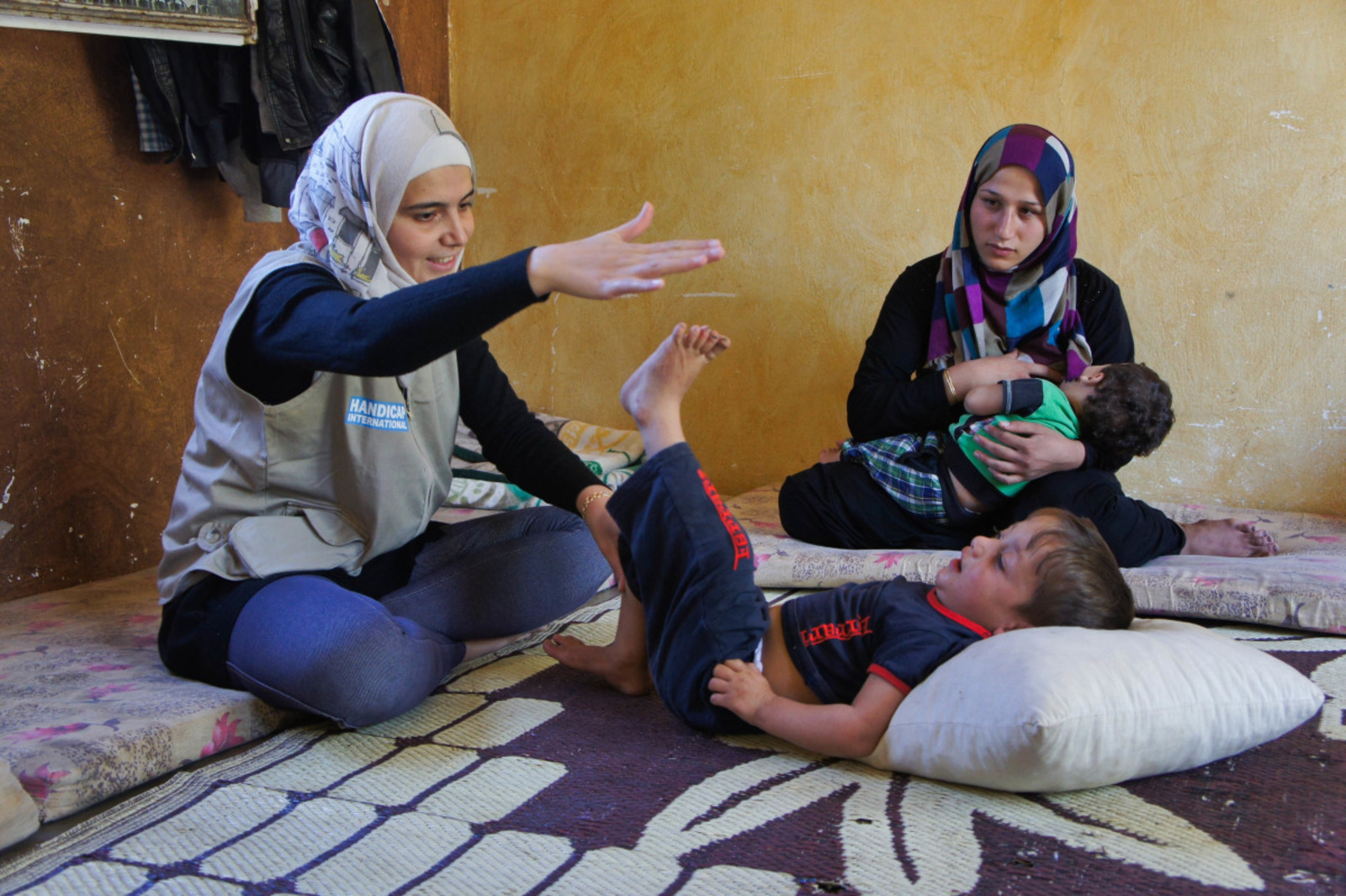 © Elisa Fourt/HI
Fayez's parents heard about HI's work shortly after arriving in Lebanon. One of the organisation's teams visited their son and began providing him with physiotherapy care.
"He's getting better now," says Noor with a smile. "When we arrived, he couldn't talk, walk or even stand up. He still finds it hard to communicate but at least he's moving again."
Fayez's progress has restored hope to his parents, who are finding it hard to get used to life as refugees in Lebanon.
"We had such a good life in Syria, just a few years ago. It's been really difficult to come to terms with the idea that we've lost everything. Before the war, we had a normal, peaceful existence. We went to work and had a beautiful home. I don't know if life will ever be the same again. But I hope so, for his sake…" sighs Fayez's father, as he watches his son complete his exercises.
At the end of the physiotherapy session, Noor adds: "My son is just three years old. He was caught in two attacks this year. And now, he's a refugee in a country he doesn't know. Tell me, what did he do to deserve this?"
"All that matters to me now is to try to secure a good future for him. And I hope we can go back to our country soon. Every day I dream that we'll be able to return to our old life again. And that my son will grow up happy, like other children. That's really all I want for him now."
Fayez sits on his mother's knees, as if to comfort her. She strokes his cheek and silently wipes away her tears.