Your cattle may be in danger: On the road with a team of landmine surveyors in Chad
In this travelogue, Denis Ricca, the manager of Handicap International's team of surveyors in Chad describes the challenge of identifying areas of land that are contaminated by explosive remnants of war. Denis talks through the team's activities during a 12-day visit, which included sessions to raise awareness in communities about the risks posed.
Decades of conflict have left a deadly legacy of landmines and other explosive remnants of war in Chad. In October 2014 Handicap International launched new activities to clear land of explosive weapons and help people and communities affected.
A a river in Moyen-Charir that the ERW surveyors had to cross. Chad. | © Handicap International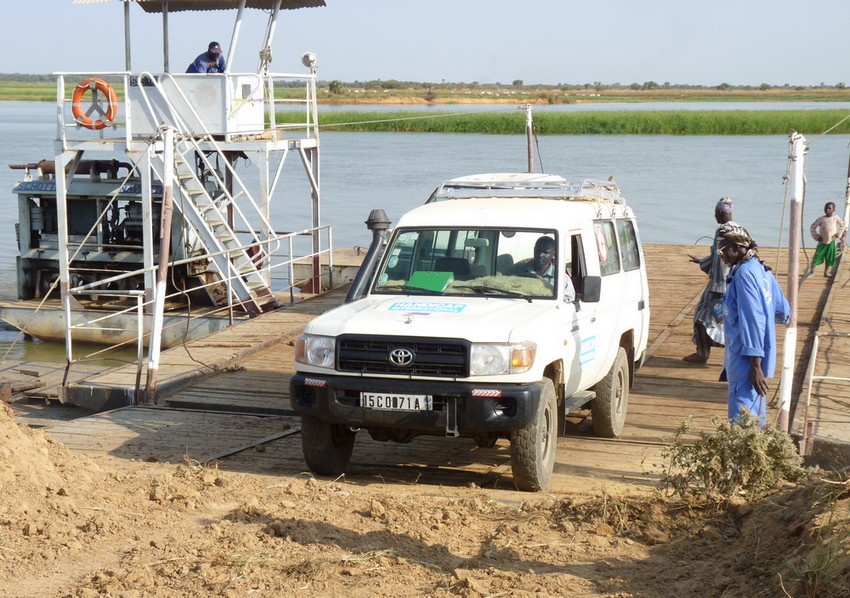 Denis recently led a team of five surveyors who travelled to the southern region of Moyen-Charir to conduct surveys of areas believed to be contaminated. One of their main challenges was the lack of official records detailing the locations of weapons. This meant that they worked closely with local elders to learn about the locations of weapons.
Day 1-2: We depart from N'Djamena, the capital of Chad, for a two-day journey south to Danamadji, a town near the border with Central Africa Republic. Numerous accidents with explosive remnants of war have been reported there.
Day 3: We arrive at Danamadji and settle into premises vacated by the World Food Programme. We meet with the local authorities and tell them about Handicap International. It's a basic formality, but it allows us to get official support.
Day 4: We meet with local opinion leaders such as school principals and priests (most people in Moyen Chari are Christian) and are granted permission to conduct risk education sessions in the schools. The team shows the students and teachers pictures of landmines and other explosive remnants of war so they are able to identify dangerous objects they might encounter. We discussed different ways accidents can happen, such as playing with unfamiliar metal objects, and ensure the students know what to do when they encounter a potential threat. Overall, we reached 1,676 students and teachers.
Two shells found in a playground
Day 5: We try to raise the awareness of cattle breeders at the cattle market. Using a megaphone, we invite them to meetings. No one comes. When we shout "your cattle may be in danger" over the megaphone and they all come. More than 100 take part in the session. A follow-up survey with group members reveals the locations of four unexploded shells: two are in a school playground, one is under a private house, and another is on a small square. They have been there for thirty years!
Day 6: Our security situation changes as Boko Haram threatens to move into Chad. Our communications are temporarily cut off.
Day 7: We conduct more risk education sessions with small groups of students in Moussafoio. We're expecting a higher number of explosive remnants of war in this area, so we spend more time with each group.
Day 8: The team conducts surveys in two villages further to the south, where a truck carrying explosives fell into the river a few years ago. At least one fisherman has been killed after catching an explosive in his net.
Day 9: We spend the day educating fishermen in area about how to protect themselves from explosive remnants of war.
Day 10: We meet two accident survivors in the village of Gnala. In Motomolo, we try to identify the potentially polluted areas. We ask local people to tell us about past accidents. In 1984, a fire on the riverbank triggered an explosion, killing one person and injuring another. In 1986, a fisherman was killed when he struck an explosive device. In 1992, two people repairing a canoe were injured.
We know there is a weapons depot nearby
Day 11: Our journey further south is blocked due to deteriorating security conditions.
Day 12: We head north to the edge of the Guera region, which was bombarded after a failed coup d'état in 2008. Korbol, the biggest village in the district, was attacked by helicopters and rockets. Some bombs fell on the banks of the river but did not explode. The last violence in this area occurred in 2013. We know there is a buried weapons depot nearby but we have not located it yet. It may contain mortar shells.
We have much work ahead of us.