Zeidan's first ever physiotherapy session
In December 2016, Zeidan, 5, and his family fled the fighting in Mosul and took refuge in Iraqi Kurdistan. Zeidan, who has cerebral palsy, recently had his first ever physiotherapy session, thanks to Handicap International's team.
Zeidan does physiotherapy exercises with Mohammed from Handicap International's team. | © E. Fourt/Handicap International
Every day, Mohamad, one of Handicap International's physiotherapists, and Diana, a social worker, walk through Hasansham camp in Iraqi Kurdistan, where tens of thousands of displaced people have taken refuge since the start of the Mosul offensive, last October.
As they go from tent to tent in search of new arrivals, they come across a little boy, Zeidan, sitting in his wheelchair. They are soon joined by his parents, and Mohamad and Diana offer to do some physiotherapy exercises with their son.
As Mohamad starts the rehabilitation exercises, Diana chats with Zeidan's parents. "Our son was born prematurely," explains his father, Husein. "He was in an incubator for the first ten days of his life. We were worried and asked doctors what was wrong with him. One of them told us that part of his brain had been lacking oxygen, and that he was suffering from a mild form of cerebral palsy."
At the time, Zeidan's parents didn't have enough money to pay for their son's rehabilitation care, and today's physiotherapy session is the first he has ever benefited from.
"I'd do anything for him"
Husein then tells Diana about their escape from Mosul, at the end of last year.
"The city was under constant attack and I wanted to take my children to safety. We walked out in the middle of the night so that no one would see us. I held my mother's hand, because she has problems walking and carried Zeidan on my back. We had a really rough time getting here."
Husein watches his son as he does his exercises with Handicap International's physiotherapist. "I'd do anything for him," he says, "but I can't help worrying about his future. I love him so much."
Help us restore hope in a time of war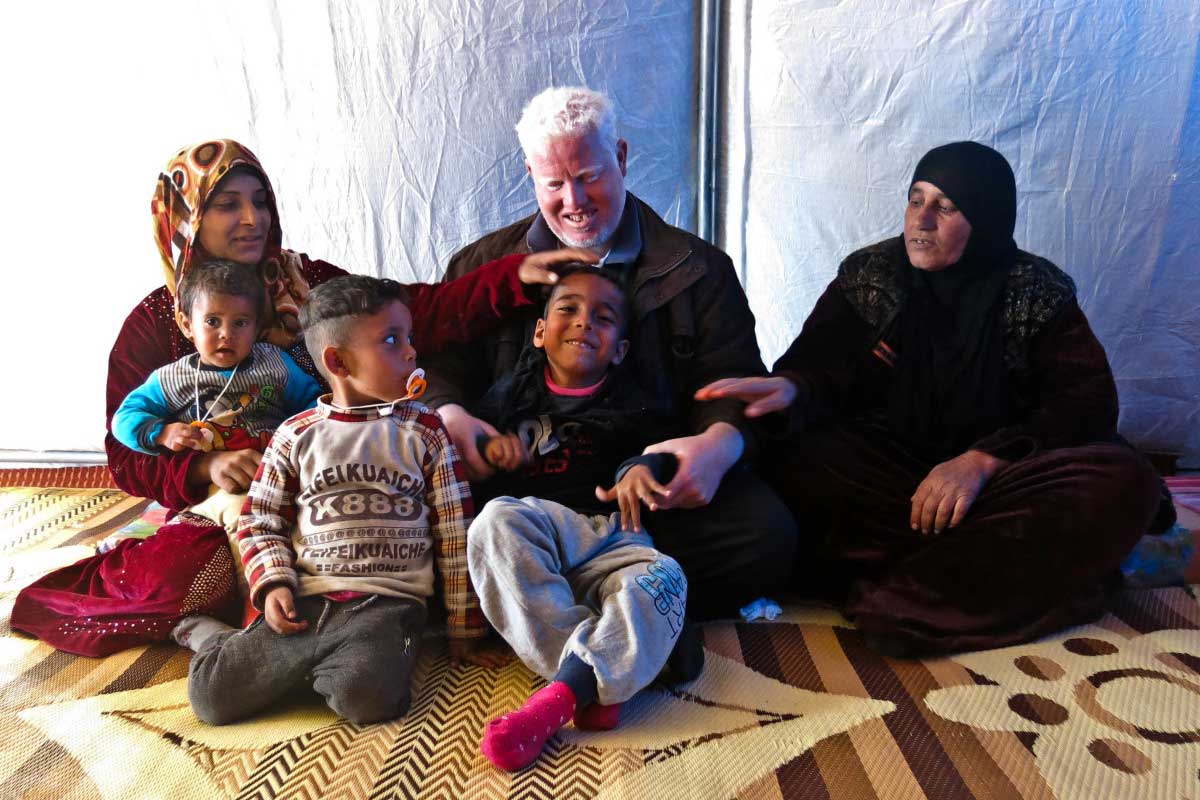 © Elisa Fourt/Handicap International
Full of hope and eager to learn
Zeidan's father explains that he wants his son to go to school, but that the camp isn't adapted to his needs. "I really want him to learn," he adds.
Zeidan watches his little brother Alawi playing alongside him. "You must go to school" the little boy says softly, with a broad grin on his face. "If I manage to get a rucksack, I'll even go with you myself. You must go to school. It's really important."
Zeidan is eager to learn and also wants to reassure Husein. He's got a positive outlook on life and he's full of hope.
The physiotherapy session comes to an end. "We'll be back to visit the family soon," says Mohamad. "We're going to give them some mobility devices to make Zeidan's life easier and I want to teach his parents how to do rehabilitation exercises with him, so they'll know how to help Zeidan when they leave the camp."
The little boy high fives the physiotherapist and laughs. He's already looking forward to their next visit.
Help us restore hope in a time of war
Please support our urgent appeal for the innocent victims of war and fighting in Syria and Iraq. Your gift today could help us clear land of unexploded bombs and provide rehabilitation to disabled children like Zeidan, helping them regain their independence.