Support from players of People's Postcode Lottery continues into 2020
Jordan
Lebanon
United Kingdom
We are delighted to announce a second year of partnership with People's Postcode Lottery with support of the players supporting victims of the Syria conflict and men, women and children in conflict.
© Jaweed Tanveer / HI
In 2020, for the second year running, Humanity & Inclusion has been granted a Special Award from Postcode Global Trust, with funds raised by players of People's Postcode Lottery.
This is a really exciting announcement as the work that is achieved with the support of players of People's Postcode Lottery is life-changing and at the heart of all that we at Humanity & Inclusion are passionate about.
Syria crisis
Across 2020 this Special Award will go to support those affected by the Syria Crisis. As the situation across the region continues to worsen, Humanity & Inclusion's teams are there to offer physical and psychological help to the most vulnerable.
To ensure the sustainability of the work carried out in the region, these projects take place in host communities and alongside other organisations who are present in the area. This ensures that all that is achieved has a long lasting positive effect, meaning that both Syrian refugees and host communities are able to benefit from the support of the players of People's Postcode Lottery into the future.
For example, with the increase in the number of Syrian refugees in certain areas, our teams work to help hospitals, rehabilitation centres and outreach teams to ensure that the local healthcare can find ways to cope with the pressure.
A child of four who loses a limb through bombings will need up to 30 or 40 prosthetics across their lifetime as they grow. Prosthetics are essential to allow an individual to live their life, to attend school, support their family, and enjoy movement.
Stop Bombing Civilians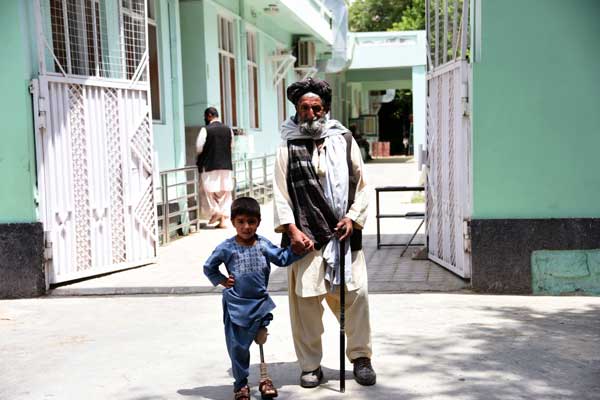 © Jaweed Tanveer / HI
Meet Sanaullah, a 5-year-old boy from Afghanistan. His father was carrying him home from the market when a fighting broke out and a mortar exploded near them. Even though Sanuallah was taken to hospital straight away, he had to have his left leg amputated below the knee. Humanity & Inclusion have been able to provide Sanuallah with a prosthetic and rehabilitation. Sanaullah, just like many of those impacted by war across the world, will need support all his life.
This is why we are also so pleased that this Special Award allows the continuation of Humanity & Inclusion's fight to protect men, women and children in conflict through our Stop Bombing Civilians campaign. The support of players of People's Postcode Lottery means that we can reach even more people and involve them in the fight.
2020 is particularly important for this campaign with international meetings planned which could see a international agreement being drawn up for States to commit to end the use of explosive weapons in populated areas. This would be a landmark moment for the protection of civilians in conflict.
Thank you, players of People's Postcode Lottery. You are changing lives.

---
Players of People's Postcode Lottery are generously supporting Humanity & Inclusion's work with injured and traumatised Syrian refugees and our Stop Bombing campaign to protect civilians.
For more information visit www.postcodelottery.co.uk