Giles Duley: "The moment I had my life back"
Photographer Giles Duley tells the incredible story of Kholoud, a woman he met in Lebanon on his first proper trip back to work after being injured, and how meeting her helped him get his own life back.
Here at Humanity & Inclusion, we feel very lucky to count the award-wining photographer Giles Duley as one of our close friends. In the past few years we've had the pleasure of welcoming Giles in many of our projects around the world, including Jordan , Lebanon , Gaza , Rwanda , Uganda, and Democratic Republic of Congo.
During these visits, Giles has been able to see first-hand the impact of our work by meeting some of the amazing people we support. Spending time with them, cooking together, sharing food and stories has resulted in some firm friendships.
Giles' work is founded on this close connection, and has allowed him to produce some incredibly powerful work documenting the devastating impact that war has on people's lives. His photographs highlight the struggle and hardship which people with disabilities living in conflict have to go through, but most of all they capture the love and hope he encounters in each family he meets.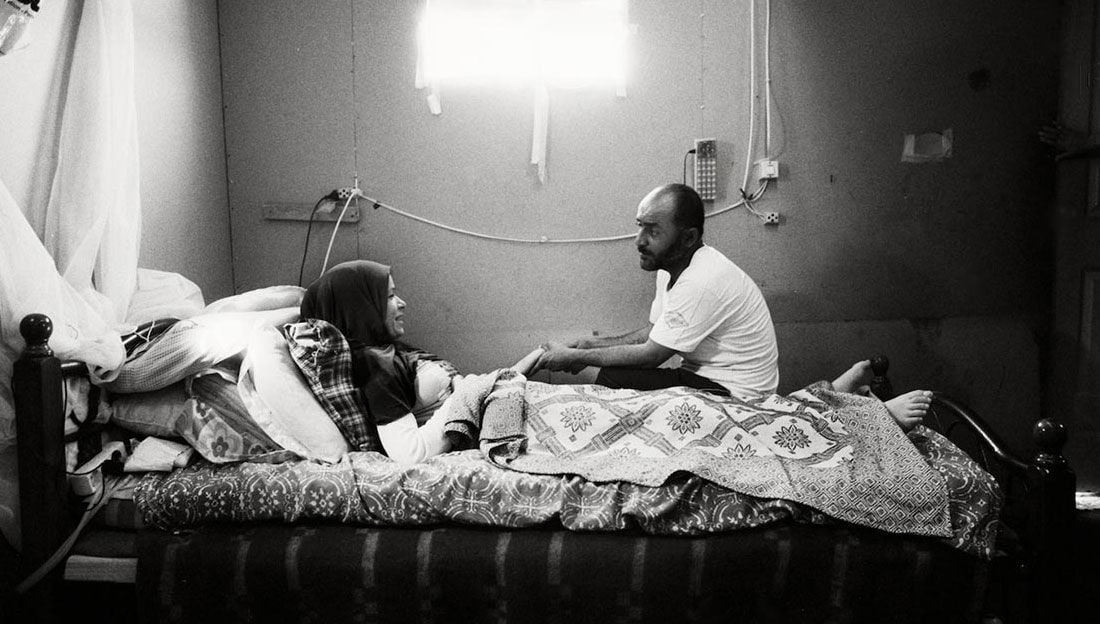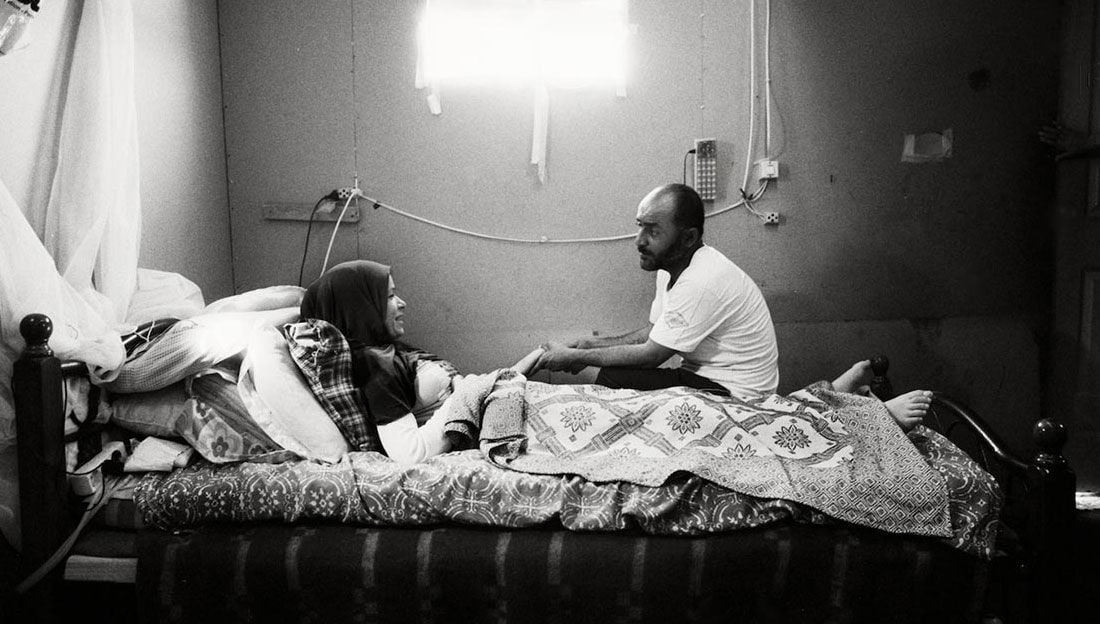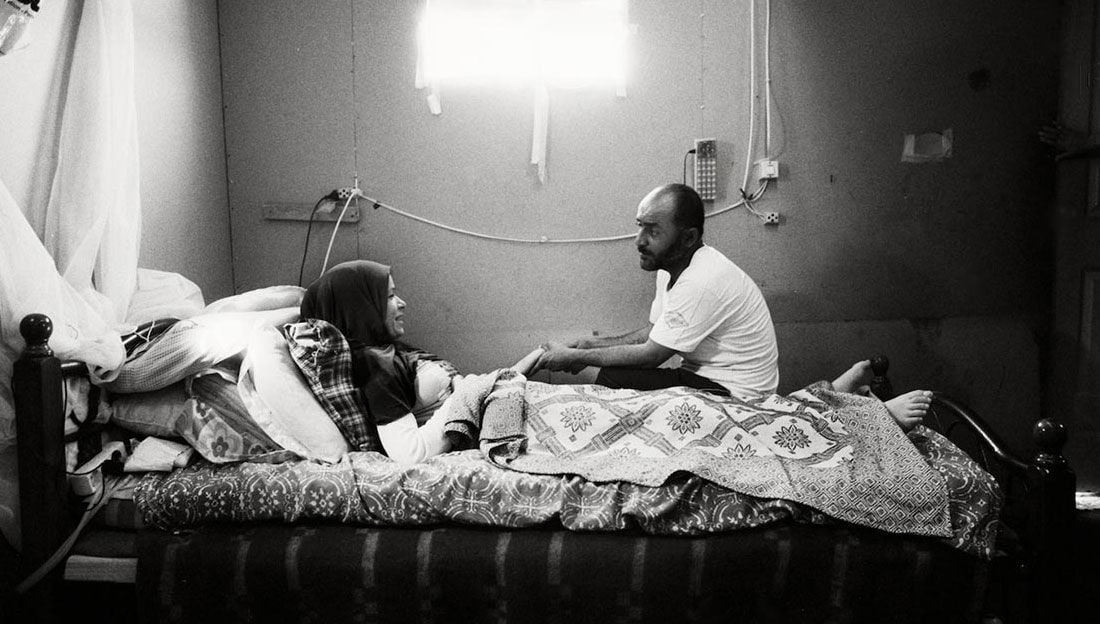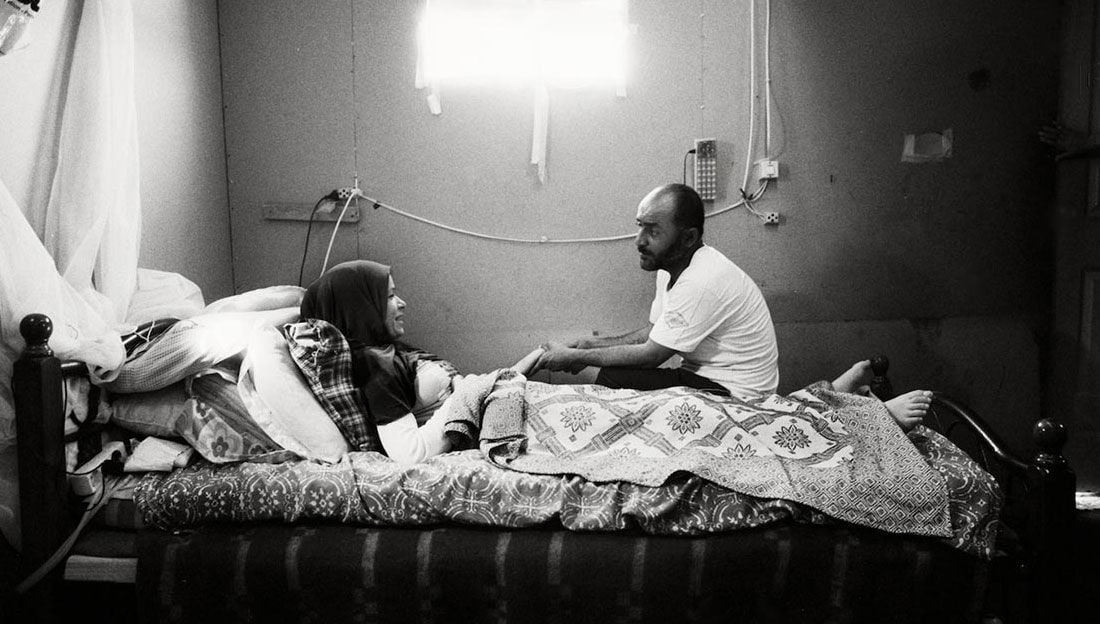 © Giles Duley
Khouloud, from Syria, was left paralysed from the neck down after being shot by a sniper. HI's team trained her husband in wound care and physiotherapy exercises. [2014 archive]
"The moment I had my life back"

Giles describes one of his first trips with HI in 2014 as "the moment I had my life back".
He explains, "The trip to Lebanon really was my first proper trip back to work. It was three years after I got injured, I was very nervous about it. And one of the first people I met was a woman called Kholoud."
"It was the first time my work was published following my accident, three years after my accident, without any reference to what had happened to me. Up until that point, any photo that was published would have to go on about Giles Duley who was injured by a landmine, Giles Duley, a disabled photographer. And this was the first time the work stood on its own. It just said 'Giles Duley, photographer'".
"That was hugely significant in my own recovery because it was the moment I had my life back. One of the things I know from meeting so many people living with disabilities is they get tired of their injuries, their illnesses being bigger than them. That when people meet them, the first thing they talk about is those injuries, the disability they live with, and they don't get seen as people any more. For me, having my work published purely on the merit of the work itself really felt as if I had escaped from the injuries that I had been living with for the last three years."

Unreported World: "The Invisible People"
Giles Duley presents a must-see, heart-breaking documentary about disabled refugees who have fled the war in Syria to take shelter in Lebanon. [Archive 2014]